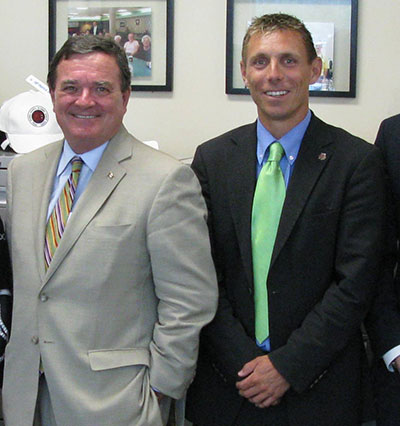 Yesterday I had the honour of attending the State Funeral for the Hon. James M. Flaherty.
Last week, when I heard the news of his passing I was stunned and deeply saddened. As Finance Minister, he managed our economy during the most difficult days of the global financial crisis. It was his vision and the path he set forward during that time of uncertainty that has left Canada the envy of the G20.
It is heartbreaking that he was taken away from us just a few weeks after stepping away from one of the most demanding jobs in the world. In the words of Shakespeare "So wise so young, they say, do never live long."
Canada has indeed lost a remarkable public servant but it is the human side of the politician that I will miss the most.
I first met Jim Flaherty in 1995. He had just been elected as an MPP and I was serving on the Executive of the Ontario PC Youth Association. I was immediately taken with his keen interest in young people and the way he listened to us. He cared about our issues and inspired us to dedicate ourselves to public service.
When Jim ran for the provincial party leadership in 2002 and 2004 I was pleased to work on his campaigns and in spite of him coming close, I was proud to have supported the best man for the job.
Jim was there at the campaign office opening when I ran in my first federal election (2004). He was not just there for a quick hello or a photo op; he went out door knocking with me on my very first federal poll. Jim was also one of the first to contact me after I lost that close race.
However, less than two years later we were both being sworn in as federal MP's in Ottawa. It is funny how things work out for the best sometimes.
Before Jim faced his recent health challenges, I would often see him at the Parliament Hill gym working out early in the mornings. Most Cabinet Ministers would prefer a more private venue, but that wasn't Jim's style. He just loved being one of the guys.
I recall a scheduled visit to Barrie in 2007. Jim was due to arrive at 6 pm and at 4:30 he called to say he had come early to get the "flavour" of our city. I was at another event and would at least an hour. He asked where a good place was to grab a bite and I suggested the Queen's Hotel.
When I arrived he was surrounded by people and telling stories. These strangers to Jim were amazed that a man of Jim's 'position' would just happen by a small town pub and so easily blend in. But that was Jim. His Irish charm and his down to earth core just came naturally.
Jim was also great friend to Barrie. When I talked to him about the need to clean up Lake Simcoe, help build Georgian College's Wellness Centre or help bring the GO Train back he responded with funding.
I am not sure if it was our shared Irish heritage, our devoutness to public service or our common love for hockey, but I always knew I had a synergy with Jim and Barrie had a captive audience with the greatest Finance Minister our country has ever known.
Yesterday was a very solemn day but I was proud to be there to pay my respects to a man I greatly admired, to honour a colleague for his unwavering service to his country and to thank a dear friend from the bottom of my heart.
Jim Flaherty is sorely missed.
Patrick Brown, MP
Click here to see how this appeared in the Barrie Examiner